Biotehnologie
Producerea unor medicamente complexe pe bază de proteine este un sector important cu dezvoltare rapidă pentru industria biofarmaceutică. Producerea vaccinelor virale, anticorpilor monoclonali, glicoproteinelor, agenților terapeutici și altor medicamente necesită sisteme personalizate pentru fermentarea, recoltarea și purificarea atente, dar eficiente. Producția de succes necesită echipamente igienice care manevrează celulele cu atenție, elimină riscurile de contaminare și maximizează producția.
Aplicaţii conexe
Produse conexe
Servicii conexe
Tot
Echipamente de amestecare
Echipamente pentru curăţarea rezervoarelor
Echipamente pentru rezervoare
Fitinguri
Instrumente
Membrane
Pompe
Schimbătoare de căldură cu fascicul tubular
Schimbătoare de căldură cu plăci
Schimbătoare de căldură cu racleţi
Separatoare centrifugale
Soluţii pentru berării
Soluţii termice
Ţevi
Ventile cu scaun
Ventile de control
Ventile în linie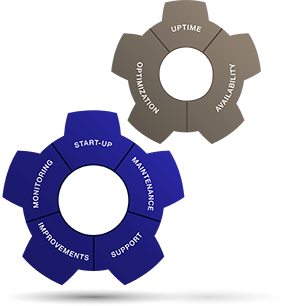 Our global service network has dedicated specialists, knowledgeable about your industry. We are here to support you with parts and expertise, wherever and whenever you need them.
The Alfa Laval 360° Service Portfolio covers all your needs throughout the life cycle of your equipment — from start-up, maintenance, support and improvements to monitoring services — for maximum uptime, availability and optimization.
By minimizing your total cost of ownership, we help you stay ahead of the competition.
Learn more about our service offer
---
Pulsul producției biotehnologice
Companiile biofarmaceutice se confruntă cu provocări care includ regulamente și solicitări în continuă schimbare, pentru a inova și maximiza permanent productivitatea. Alfa Laval contribuie la depășirea acestor dificultăți datorită cunoștințelor sale privind procesele biotehnologice de ultimă generație și echipamente care asigură procesarea igienică, costuri de proprietate reduse și riscuri de contaminare minime. Ușor adaptate la scală de pilot și pentru producția comercială, echipamentele noastre asigură producția sigură, continuă și eficientă din punctul de vedere al costurilor și contribuie la o productivitate crescută.
De ce să alegeți Alfa Laval?
Gamă completă de echipamente de proces pentru tratare atentă ușor scalabilă din unități pilot în instalații de producție complete
Echipamente igienice și fiabile pentru producția conformă cu cGMP sprijinite de experiența în inginerie, cunoștințe privind aplicațiile, instalarea personalizată, sprijin complet de validare și documentație cuprinzătoare
Echipamente complet administrabile, ușor de curățat la locație și ușor de sterilizat, care asigură procese de culturi de celule igienice
Solicitare ofertă de preţ pentru Biotehnologie