Încălzire municipală
Schimbătoarele de căldură cu plăci și sistemele Alfa Laval joacă un rol esențial în încălzirea centralizată. Această metodă de încălzire fiabilă și ecologică oferă flexibilitatea de a valorifica diverse surse de încălzire, inclusiv energia de la surse regenerabile sau recuperată.
Aplicaţii conexe
Produse conexe
Servicii conexe
Tot
Răcitoare de aer cu baterie cu aripioare
Schimbătoare de căldură cu fascicul tubular
Schimbătoare de căldură cu plăci
Soluţii HVAC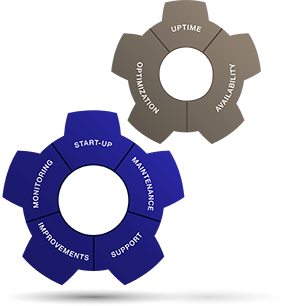 Our global service network has dedicated specialists, knowledgeable about your industry. We are here to support you with parts and expertise, wherever and whenever you need them.
The Alfa Laval 360° Service Portfolio covers all your needs throughout the life cycle of your equipment — from start-up, maintenance, support and improvements to monitoring services — for maximum uptime, availability and optimization.
By minimizing your total cost of ownership, we help you stay ahead of the competition.
Learn more about our service offer
---
Soluții economice, eficiente energetic
Sistemele de termoficare furnizează căldură și apă caldă menajeră de la o instalație de
încălzire centrală prin substații de încălzire către clădiri individuale. Schimbătoarele de căldură cu plăci și sistemele de încălzire compacte Alfa Laval sunt componente esențiale într-o rețea de termoficare. Comparativ cu schimbătoarele de căldură tubulare folosite anterior în sistemele de termoficare, schimbătoarele de căldură cu plăci eficiente energetic oferite de Alfa Laval contribuie la scăderea costurilor operaționale și a impactului asupra mediului. Schimbătoarele de căldură și sistemele Alfa Laval sunt folosite în sisteme de termoficare din întreaga lume.
Flexibile și convenabile în utilizare
Pentru consumatorul final, încălzirea centralizată înseamnă o modalitate facilă de obținere a energiei. Centrala termică a unui sistem de termoficare este mai convenabilă și mai eficientă decât sistemele de încălzire rezidențiale individuale. Posibilitățile de utilizare a energiei regenerabile și a energiei reciclate din surse precum procesele industriale și incinerarea reziduurilor fac ca termoficarea să fie o alegere flexibilă și eficientă energetic.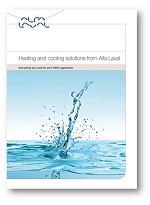 Găsiți tot ceea ce vă trebuie pentru aplicația dvs. în catalogul Alfa Laval HVAC.
Portofoliul Alfa Laval de Service 360°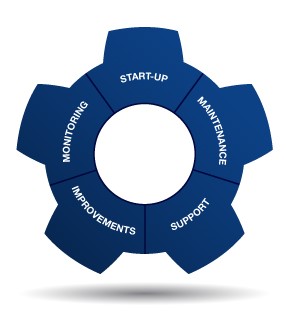 Pentru menținerea echipamentelor în cele mai bune condiții, Alfa Laval vă oferă un portofoliu cuprinzător de servicii.
Contactați-ne pentru a descoperi cum puteți extinde performanța produselor dvs.
Conducând viitorul în HVAC
Solicitare ofertă de preţ pentru Încălzire municipală