Industria de cosmetice şi produse de îngrijire personală
Cererea pentru produsele de îngrijire a pielii şi a părului, cosmetice, deodorante şi pastă de dinţi, este în continuă creştere. Pentru a conta pe o producţie igienică şi rentabilă de produse cosmetice trebuie să obţinem randament maxim din materiile prime folosite şi să asigurăm procese repetabile şi fiabile, conservând, în acelaşi timp, calitatea produselor.
Aplicaţii conexe
Produse conexe
Servicii conexe
Tot
Automatizare
Echipamente de amestecare
Echipamente pentru curăţarea rezervoarelor
Echipamente pentru rezervoare
Fitinguri
Instrumente
Pompe
Schimbătoare de căldură cu plăci
Ţevi
Ventile cu scaun
Ventile de control
Ventile în linie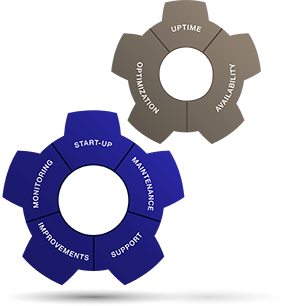 Our global service network has dedicated specialists, knowledgeable about your industry. We are here to support you with parts and expertise, wherever and whenever you need them.
The Alfa Laval 360° Service Portfolio covers all your needs throughout the life cycle of your equipment — from start-up, maintenance, support and improvements to monitoring services — for maximum uptime, availability and optimization.
By minimizing your total cost of ownership, we help you stay ahead of the competition.
Learn more about our service offer
---
Pulsul producţiei de cosmetice şi produse de îngrijire personală
Producătorii de cosmetice şi produse de îngrijire personală se află într-o continuă presiune pentru a livra o gamă largă de şampoane, creme de ras, pastă de dinţi, loţiuni, cosmetice şi alte produse care îndeplinesc cerinţele şi schimbarea preferinţelor clienţilor.
Alfa Laval ajută la diminuarea presiunii oferind o gamă largă de echipamente igienice care pot ajuta la reducerea costurilor de producţie şi a consumului de utilităţi, menţinând calitatea produsului. Echipamentele noastre asigură manevrarea materiilor prime, amestecarea, combinarea, curăţarea, sterilizarea în locaţie şi transferul sigur al produselor, cu o varietate de automatizare şi control în fiecare etapă a procesului.
Alfa Laval oferă expertiză în selecția și testarea produselor pentru a mări avantajul competitiv printr-o eficiență sporită a procesului de producție.
De ce să alegeţi Alfa Laval ?
Creşterea duratei de funcţionare şi a producţiei
Uşurinţă la punerea în funcţiune, pentru calificare, curăţare şi service
Respectarea tuturor standardelor relevante şi cGMP
Consecvenţă în cadrul lotului şi între loturi
Asigurarea caracteristicilor şi calităţii produsului
Protejarea integrităţii produsului finit
Îmbinare igienă maximă cu eficienţă maximă
Reducerea consumului de energie şi apă
Solicitare ofertă de preţ pentru Industria de cosmetice şi produse de îngrijire personală